Administration-Management Hospital Based job located in Oregon
Administration-Management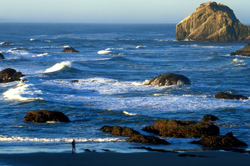 Job Description
Hospital Employed
Competitive Salary
Excellent work/life balance
(Login for Information) is seeking a Medical Director of Outpatient Primary Care to join our team in Newport, OR.
Our award-winning health system provides exceptional primary care and a range of specialty services throughout the mid-Willamette Valley and Central Oregon coast. The network serves approximately 300,000 residents in Linn, Benton, Lincoln and portions of Polk and Marion counties. Our skilled providers have a passion for building healthier communities through world-class, compassionate health care.
Job Specifics
Provides leadership in the affairs of clinical practices.
Advises and makes recommendations to the VP of Primary & Specialty Care Practices/site CEO regarding long range planning and assists in the development and maintenance of annual objectives and long term goals.
Provides guidance and leadership for the development and improvement of clinical care guidelines.
Provides for leadership development within the medical community.
Responsible for the delivery of annual review of primary care providers.
Participates in the recruitment and retention process for primary care providers.
Supports and participates in continuous quality improvement throughout the corporation.
Participates in all appropriate committee and clinic meetings.
Works collaboratively to integrate policies, practices and services within SHS through involvement with various individuals and committees in a participative manner.
Addresses physician behavior and impairment issues in collaboration with Administration.
Provides input on transformation effects on primary care.
Accepts and performs other work as assigned.
Requirements
Graduate of a four-year accredited U.S. Medical School or equivalent required.
Board certification or eligible, as appropriate to position, preferred.
Unrestricted license to practice medicine in the State of Oregon required.
Ability to obtain Federal Drug Enforcement Agency license, state controlled substance license when necessary, and staff privileges at all hospitals for which coverage is being provided required.
Two (2) years management experience preferred.
Three (3) years recent experience in an integrated delivery health care system, preferred.
Healthcare Provider BLS required.
We offer an attractive salary plus incentives, relocation assistance, possible loan repayment, paid malpractice, CME days plus allowance, Electronic Medical Record (EPIC) and a competitive benefits package.
Location Details
Nestled between the Coast Range and the beautiful blue Pacific Ocean, Newport boasts some of the most breathtaking scenery on the central Oregon Coast with vast stretches of rugged cliffs, lush vegetation and sandy beaches. The temperate coastal climate allows for a variety of activities year-round including hiking, whale watching, golfing, shopping, deep-sea fishing and surfing.
As the largest city in Lincoln County with 10,000 residents, Newport hosts a variety of cultural events through an active performing arts center and museums rich in history. Families and tourists alike can appreciate the banquet of activities, culture and natural beauty Newport offers.
Similar Jobs
Below are the filters associated with this job. You may click on a filter to find more jobs like that or
click here
to start a new search for similar jobs. You may also use the
Advanced Search
to start your search with this jobs criteria.