Family Practice Other job located in Washington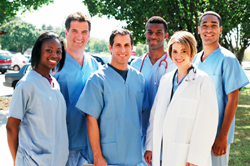 Job Description
The Physician operates in a team with other clinic healthcare providers and support staff. The Physician provides medical care to all age groups in accordance with the State of Washington Department of Licensing and professional scope of practice. In addition, the Physician provides diagnostic and therapeutic medical services to CHC patients, while making reasonable and sound medical assessments and treatment plans.
Education
• Doctor of Medicine (MD) or Doctor of Osteopathy (DO).
• Completion of an accredited residency program in area of practice (e.g., family practice, internal medicine, or pediatrics).
Credentials
• Physician license (MD/DO) with the State of Washington.
• Board eligible/Board certified by the American Board of Medical Specialties (ABMS) or American Osteopathic Association (AOA) in Family Practice, Internal Medicine or Pediatrics. Board certification - must be obtained within one year from date of hire.
• DEA controlled substances registration.
• Basic Life Support for Healthcare Providers (CPR/AED) certification - must be obtained within 90 days of employment.
• Successful completion of CHC's credentialing and privileging review upon hire and recredentialing as appropriate.
We offer competitive salary and a comprehensive benefits package designed to address health, time off, retirement and career-advancement needs.
To learn more and to apply for this position, please visit our website (Login for Information) to complete an online application and/or submit your resume for consideration.
Join a team that loves what they do and cares about those they serve.
AA/EEO Employer
Similar Jobs
Below are the filters associated with this job. You may click on a filter to find more jobs like that or
click here
to start a new search for similar jobs. You may also use the
Advanced Search
to start your search with this jobs criteria.