Pediatrics Solo job located in Utah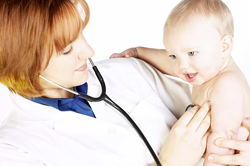 Job Description
Full-Time
Rewarding compensation packages available
(Login for Information) has been caring for children since it first opened its doors in 2001. Many of our employees have been part of our family for over 10 years. We offer a stable, friendly, comfortable and challenging working environment.
(Login for Information) currently has full and part time employees comprised of front office receptionists, clinical staff, billing and collections personnel, operation managers, administrative executives and health care providers working in our practice.
(Login for Information) offers competitive wages, a team-oriented environment and a comprehensive benefits plan designed to meet the needs of all our employees and their families. Here is a partial list of employee benefits that may be offered at Southern Utah's leading pediatric practice:
Health Insurance
Vision Insurance
Dental Insurance
Life Insurance
Short & Long term Disability Insurance
Paid Time Off
Paid Holidays

Visit our website to apply now!
Similar Jobs
Below are the filters associated with this job. You may click on a filter to find more jobs like that or
click here
to start a new search for similar jobs. You may also use the
Advanced Search
to start your search with this jobs criteria.