Psychiatry VA Medical Center job located in Wyoming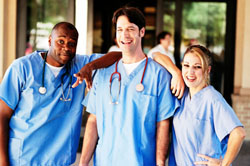 Job Description
Any Active State Medical License
Residency Trained
Malpractice Covered under Federal Tort Act
The Psychiatrist functions primarily as a staff Psychiatrist providing consultative services for the Mental Health Service Line at the Cheyenne VA Medical Center in Cheyenne, Wyoming. Responsibilities include, but are not limited to:

Conducts Mental Health and Tele-Mental Health clinics and manages patient care within those clinics.

Provides psychiatric consultative services within the facility including emergency department, inpatient, outpatient, Community Living Center (CLC), and Multi-specialty Outpatient Clinics (MSOC's).

Provides regular clinical consultation to the Mental Health Program members.

Provides off-hours, on-call for the Mental Health Service Line.

Is required to maintain current BLS certification.

Serves on Interdisciplinary Treatment Team(s)

Performs other related duties as assigned.
Similar Jobs
Below are the filters associated with this job. You may click on a filter to find more jobs like that or
click here
to start a new search for similar jobs. You may also use the
Advanced Search
to start your search with this jobs criteria.