Family Medicine job located in Florida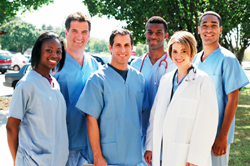 Job Description
Competitive compensation
Full malpractice insurance provided
Flexible scheduling
Telehealth Physician Opportunity - National COVID-19 Response
As patients are turning to telemedicine in the wake of COVID-19, Amwell Medical Group, Amwell's in-house medical practice, is seeking board certified IM, FM or EM physicians provide urgent care services through American Well's video-based online platform.
This role is very flexible, with no minimum hourly commitment and no terms to the contract. Physicians create their own schedules and sign on to the platform when it's convenient for them. Each consult is approximately 10 minutes, and during our busy season physicians may handle multiple visits per hour. Amwell Medical Group will be offering a $100 sign on bonus for providers who complete our simple online on-boarding process before 4/1/20.
Essential Job Functions:
Urgent Care Evaluations and Treatment plans
Prescribing as warranted
Requirements:
Board certification in Family, Internal or Emergency Medicine
Active state license in any of the following states: FL, TX, CA, WA, NJ, AL, CO, GA, IL, MN, NC, NV, OK, TN, WI, NY, AK, AZ, MD, VA, DC
Active, unrestricted DEA license
1 year post-residency experience
Benefits Provided: Amwell Medical Group provides full malpractice insurance for this job.
Job Type: Part-time, Contract
For immediate consideration, please send a copy of your current CV to Aymee Sampson - Director of Provider Recruitment
Similar Jobs
Below are the filters associated with this job. You may click on a filter to find more jobs like that or
click here
to start a new search for similar jobs. You may also use the
Advanced Search
to start your search with this jobs criteria.