Family Practice VA Medical Center job located in Washington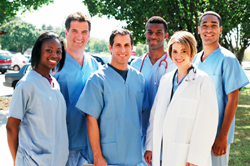 Job Description
Any Active State Medical License
Federal Tort Act Malpractice Coverage
Come Care for our Nations Veterans
The Mann-Grandstaff VA Medical Center, Spokane, Washington Seeking a full-time board certified or board eligible Internal Medicine or Family Medicine physician for Ambulatory Care. The incumbent will deliver services to veterans presenting for health care. Duties will include day-to-day care of veteran patients presenting with ambulatory/primary care appointments. The ideal candidate would have a minimum of 2 years' experience providing chronic illness care.
Spokane Things to Do
Indoor or (Login for Information), any season, any time of the year—there's always something to do in Spokane. Commune with nature by engaging in the many outdoor options or explore all of the entertainment designed to captivate and enthrall. Choose relaxing activities to find inner peace or keep your blood pumping every step of the way. Visit the city your way and you'll find there's a side of Spokane to (Login for Information) you with plenty of things to do from check-in to check-out. Get Outdoors The natural beauty of Spokane will be the first thing to greet you upon your arrival, so why not dive right in? (Login for Information) presents an accessible point to the breathtaking falls of the (Login for Information), but this isn't only the gateway to Spokane's outdoor recreation. Make the most of the many waterways in the region by engaging in your pick of white water rafting, kayaking, (Login for Information), or (Login for Information). Leisurely stroll on paths and trails as a starting point to strike out on your own for a (Login for Information), rock climbing session, or cycling excursion. Come wintertime, you might choose to (Login for Information), snowboard, or explore the snowy wonderland on snowshoes. Take In Culture From first-class (Login for Information) and college (Login for Information) to hockey and professional race car driving, spectators will not be disappointed. Spectators of a different sort will delight in the city's (Login for Information) presence. Theaters big and small present Broadway musicals and local productions. (Login for Information) and (Login for Information) showcase creations and artifacts from the region, nation, and all over the globe. Take in Spokane's history at museums dedicated to preserving the past or take a self-guided tour of historic buildings serving as time capsule of yesteryear. Speaking of (Login for Information), you'll find a different tour for nearly every interest. Book a zip-line tour through the forest, a helicopter tour for a bird's eye view of the city, and of course, tours of wineries and breweries abound. (Login for Information)
VA boasts a comprehensive compensation and benefits package (Paid Time-Off, Professional/Personal Insurance Coverages, 401K, CME, and Retirement, etc.). For more info, click: (Login for Information)
Department of Veterans Affairs offers Veterans the largest, most technologically advanced integrated health care system in the United States. We operate more than 1,400 sites of care, including 153 medical centers, 909 ambulatory and community based outpatient clinics, 135 nursing homes, 232 Veterans centers, 47 readjustment counseling centers, and 108 comprehensive home-care programs, across all 50 states, the District of Columbia, and U.S. Territories. Learn more at: (Login for Information) .
If interested in learning more about this position please email an updated CV to (Login for Information) or call (Login for Information).
Similar Jobs
Below are the filters associated with this job. You may click on a filter to find more jobs like that or
click here
to start a new search for similar jobs. You may also use the
Advanced Search
to start your search with this jobs criteria.