Family Practice VA Medical Center job located in Wyoming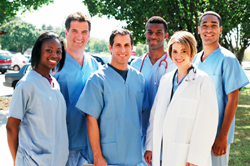 Job Description
Any Active State Medical License
Residency Trained
Malpractice Covered under Federal Tort Act
The ACOS for Medicine is responsible for defining the mission and vision of the primary care program, developing the scope of practice for employees assigned, designing plan of care, and assuring implementation of quality improvement measures along with developing action plans to meet performance measures. The incumbent is responsible for developing, planning, clarifying, administering, and managing the Ambulatory Care program. The incumbent designates service priorities and objectives, supervises programs and supervises and evaluates performance of staff assigned to the program. The ACOS makes independent professional decisions and recommendations with infrequent recourse to supervisory guidance. The incumbent serves as the liaison to other Services/Product lines, other facilities, Veterans Integrated Service Network (VISN) offices and VHA Central Office, other government agencies, and the community. The incumbent is responsible for advising management of specific clinical or administrative issues within the Ambulatory Care Program and within the Medical Center. The position serves as a consultant and advisor to subordinates, peers, and administration.
Clinical: Incumbent spends 10% of time with clinical responsibilities including but not limited to medical officer of the day, PACT physician, Medical Review Officer (MR0), Employee Health, inpatient care, and outpatient care.
Administrative: Incumbent spends 90% of time managing the Ambulatory Care program. This includes but is not limited to supervising a variety of programs and positions including administrative positions, physicians, physician assistants, and nurse practitioner. The Community Based Outpatient (CBOC) Director falls under this organizational alignment which includes 5 CBOC clinics and 2 CTOC's. Incumbent is the facility PACT Champion, serves on the Emergency Care and Peer Review committees.
Work Schedule: 7:30 – 4:00, Monday through Friday with shared on-call
Similar Jobs
Below are the filters associated with this job. You may click on a filter to find more jobs like that or
click here
to start a new search for similar jobs. You may also use the
Advanced Search
to start your search with this jobs criteria.