Hospitalist VA Medical Center job located in Montana
ACOS Hospital & Specialty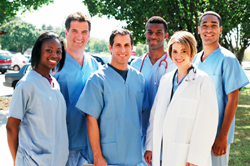 Job Description
Any Active State Medical License
Residency Trained in Specialty
Malpractice Coverage with Federal Tort Act
The Associate Chief of Staff for Hospitalist Service and Specialty Medicine (ACOS HS/SM) reports to the Chief of Staff (COS), and serves as a key clinical resource to the Medical Center Director and at the VA Montana Health Care System (VAMTHCS). ACOS HS/SM is responsible for the direct management and oversight of delivery of all healthcare in the following clinical areas and service lines: Inpatient Medicine/Hospitalist Service, Neurology and Rehabilitation, Emergency Medicine, Cardiology, and Sleep Medicine. These duties include direct supervision of physicians and other health care providers, other clinicians, supervisors and administrative staff. The supervisory role includes the review, monitoring and assignment of employee workload, health care provider effectiveness, efficiency and productivity, coordination of work schedules, and the responsibility for clinical performance measures. The incumbent works closely with other leaders within the service line and other clinical and administrative areas of VAMTHCS to ensure optimization of resources in the care delivery model.

Work Schedule: Monday - Friday; 8:00am to 4:30pm or as agreed upon with the incumbent expected to be available for duty outside of the regular duty hours listed. NOTE: Candidates must be willing to work weekends, irregular work hours and extended hours. The candidate must be willing to be assigned to other related services and/or locations, if necessary.
Similar Jobs
Below are the filters associated with this job. You may click on a filter to find more jobs like that or
click here
to start a new search for similar jobs. You may also use the
Advanced Search
to start your search with this jobs criteria.