Hospitalist VA Medical Center job located in Wyoming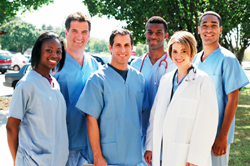 Job Description
Any Active State Medical License
Residency Trained in Specialty
Malpractice Coverage under Federal Tort Act
Our hospital has 22 beds: 16 on medical surgical floor and these are shared by the medical and surgical teams. Occasionally, medicine has all the 16 floor beds but not too often. We have 6 beds in the ICU/step down unit. Only 5 of them are regularly available because we reserve the 6th bed for acute ICU emergencies if there is a code blue or a patient in desperate need of an ICU bed.

The hospitalist is responsible for taking care of all the patients on the medical team, be they in the ICU, step down unit or medical floor. The average census is 12-15 patients a day. We have a full-time NP who works the medical floor and sees up to 8-9 of those patients M-F. Ventilator management is preferred and highly recommended. The hospitalist will go through an Out of OR Airway Management course once here but we have anesthesia on call for intubations, central lines and arterial lines. We require ACLS and BLS for our hospitalists. You can do the course while in New Employee Orientation if you don't have the certoifications before starting here on the wards.

The position we are looking for is mainly a daytime hospitalist. I prefer not to do a 7 on 7 off schedule.
Similar Jobs
Below are the filters associated with this job. You may click on a filter to find more jobs like that or
click here
to start a new search for similar jobs. You may also use the
Advanced Search
to start your search with this jobs criteria.