Internal Medicine VA Medical Center job located in New Mexico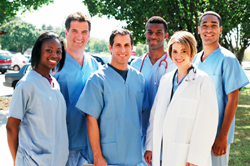 Job Description
Any Active State Medical License
Federal Tort Act Malpractice Coverage
Come Care for our Nations Veterans
The New Mexico VA Health Care System (NMVAHCS) Ambulatory Care Service is seeking qualified Medical Doctor (MD) HBPC (home based primary care) applicants to join our team. We are seeking a full-time physician to function as part of a treatment team. This Provider will be responsible for the planning and delivery of healthcare to a maximum panel of 100-150 Veterans within the Home Based Primary Care program. This individual will be responsible for evaluating Veterans in their homes and developing a comprehensive plan of care, for medically complex patients, in collaboration with an interdisciplinary team. In addition, the physician is expected to demonstrate excellent interpersonal and communication skills and behaviors that promote mutual team respect and cohesiveness.
Work Schedule: 4 -10-hour days or 5 -8-hour days
Experience with Geriatric Syndrome, specifically falls and Dementia
Life in Artesia is one of New Mexico's best-kept secrets. Our community offers a great place to settle into a small-town atmosphere with a comfortable quality of life. A strong school system, as well as growing healthcare facilities, provide services you and your family may need. Additionally, a busy calendar of events and activities offers something fun for everyone. Artesia's greatest strength is its people, who contribute to keeping our community strong and appealing. Artesia prides itself in excellent educational opportunities, art programs, a large variety of recreational activities and an ever-broadening cultural landscape. Great information can be found at the (Login for Information) .
VA boasts a comprehensive compensation and benefits package (Paid Time-Off, Professional/Personal Insurance Coverages, 401K, CME, and Retirement, etc.). For more info, click: (Login for Information)
Department of Veterans Affairs offers Veterans the largest, most technologically advanced integrated health care system in the United States. We operate more than 1,400 sites of care, including 153 medical centers, 909 ambulatory and community based outpatient clinics, 135 nursing homes, 232 Veterans centers, 47 readjustment counseling centers, and 108 comprehensive home-care programs, across all 50 states, the District of Columbia, and U.S. Territories. Learn more at: (Login for Information)
If interested in learning more about this position please email an updated
CV to (Login for Information) or call (Login for Information).
Similar Jobs
Below are the filters associated with this job. You may click on a filter to find more jobs like that or
click here
to start a new search for similar jobs. You may also use the
Advanced Search
to start your search with this jobs criteria.