Internal Medicine VA Medical Center job located in Oregon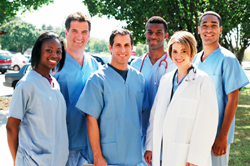 Job Description
Any Active State Medical License
Federal Tort Act Malpractice Coverage
Come Care for our Nations Veterans
The VA Outpatient Clinic in Eugene is seeking a Primary Care Physician to come care for our Veterans. The Primary Care Physician will be responsible for providing comprehensive primary care services to a defined panel of patients. This includes history taking, physical examination, ordering of laboratories and diagnostic studies, diagnosis, and formulation of treatment plans for acute and chronic conditions within the scope of Internal Medicine or Family Medicine practice.
Known as (Login for Information), this outdoors-minded community has produced many great Olympic runners, the innovative Nike mega-company, landmark sports venues and a host of sporting events from popular marathons to five U.S. Olympic Team Trials - Track & Field. Eugene is also a robust college town with several institutions of higher learning, including (Login for Information), (Login for Information) and the (Login for Information). Duck fans cheer on local sports at Autzen Stadium and at local sports bars pouring regional microbrews. Craft beer is cherished here, and you can get a taste of the local flavor along the (Login for Information). As a (Login for Information), Eugene offers an abundance of locally-grown, raised and produced food products. The quality of Northwest regional dining is superb. A glass of award-winning (Login for Information) complements every meal. Framed by rolling wine country, agricultural lands and lush green forests, Eugene offers easy access to stunning natural beauty as well as abundant outdoor adventures. Just an hour west, romp on sandy beaches and explore dramatic (Login for Information), and just a few hours east, climb to the summit of snow-capped (Login for Information)!
A Great City for the Arts and Outdoors
With many museums, local opera, symphony and ballet companies, and a multitude of performing arts venues including the 12,000-seat (Login for Information), the city hums with arts and culture. Take a walking tour of Eugene's downtown center where artisans offer one-of-a-kind creations and boutiques showcase designer products. Eugene's unique and colorful persona is present today at the (Login for Information) and the weekly (Login for Information). Please visit (Login for Information)
VA boasts a comprehensive compensation and benefits package (Paid Time-Off, Professional/Personal Insurance Coverages, 401K, CME, and Retirement, etc.). For more info, click: (Login for Information)
Department of Veterans Affairs offers Veterans the largest, most technologically advanced integrated health care system in the United States. We operate more than 1,400 sites of care, including 153 medical centers, 909 ambulatory and community based outpatient clinics, 135 nursing homes, 232 Veterans centers, 47 readjustment counseling centers, and 108 comprehensive home-care programs, across all 50 states, the District of Columbia, and U.S. Territories. Learn more at: (Login for Information) .
If interested in learning more about this position please email an updated CV to (Login for Information) or call (Login for Information).
Similar Jobs
Below are the filters associated with this job. You may click on a filter to find more jobs like that or
click here
to start a new search for similar jobs. You may also use the
Advanced Search
to start your search with this jobs criteria.