Internal Medicine VA Medical Center job located in Oregon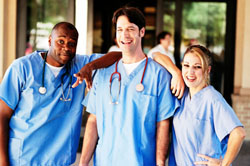 Job Description
Any Active State Medical License
Federal Tort Act Malpractice Coverage
Come Care for our Nations Veterans
The North Bend VA Outpatient Clinic is seeking a Primary Care Physician to come care for our Veterans. The Primary Care Physician will be responsible for providing comprehensive primary care services to a defined panel of patients. This includes history taking, physical examination, ordering of laboratories and diagnostic studies, diagnosis, and formulation of treatment plans for acute and chronic conditions within the scope of Internal Medicine or Family Medicine practice.
North Bend, with its magnificent McCullough Bridge, is the northern gateway to the Bay Area. It boasts a history of great innovators and business people. Asa M. Simpson and his son Louis were prime movers in the town's development. North Bend was the hub of their northwestern timber holdings. (Login for Information) The Bay Area, consisting of Coos Bay, North Bend and Charleston, is a truly unique community. Located on the Southern Oregon Coast, home to some of the most spectacular beaches and sand dunes in the world, the Bay Area has become a haven for outdoor enthusiasts and retirees to experience living in the unspoiled beauty that surrounds us, and is the perfect nest for young families to grow. (Login for Information)
VA boasts a comprehensive compensation and benefits package (Paid Time-Off, Professional/Personal Insurance Coverages, 401K, CME, and Retirement, etc.). For more info, click: (Login for Information)
Department of Veterans Affairs offers Veterans the largest, most technologically advanced integrated health care system in the United States. We operate more than 1,400 sites of care, including 153 medical centers, 909 ambulatory and community based outpatient clinics, 135 nursing homes, 232 Veterans centers, 47 readjustment counseling centers, and 108 comprehensive home-care programs, across all 50 states, the District of Columbia, and U.S. Territories. Learn more at: (Login for Information) .
If interested in learning more about this position please email an updated CV to (Login for Information) or call (Login for Information).
Similar Jobs
Below are the filters associated with this job. You may click on a filter to find more jobs like that or
click here
to start a new search for similar jobs. You may also use the
Advanced Search
to start your search with this jobs criteria.