Nurse Practitioner VA Medical Center job located in Wyoming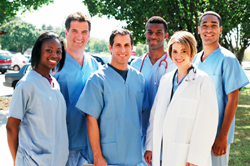 Job Description
Any Active State Nurse Practitioner License
The NP consults with the on-call psychiatrist regarding mental health patients.

Delivers holistic and comprehensive patient focused mental health services as the primary provider or as a case manager of selected groups of patients utilizing the nursing process which includes: Assessment, Diagnosis, Planning, Implementation and Evaluation and modification based upon the response to the plan of care. Consults with a Psychiatrist as needed to provide appropriate care of patients.

Serves as a mental health care provider, prescribing and monitoring the implementation of pharmacological and psychotherapeutic interventions, which include antipsychotic, anti anxiety, psycho stimulant, and antidepressant medications.

Provides psychotherapy, crisis intervention, brief problem solving, and counseling to Veterans, families and groups for the treatment and management of substance abuse, psychotic disorders, stress disorders, and other psychiatric disorders including dementia.

Orders and interprets laboratory tests.

Initiates requests for consultation services with specialty care, psychiatry, psychology, social work, and neurology.

Assists with providing mental health care to patients on the inpatient units and outpatient Mental Health clinic during their tours of duty.

Serves as a case manager for selected patients optimizing patient outcomes while providing cost effective care across the continuum of care.

Responds to each unscheduled fire alarm and to all emergency situations, catastrophic occurrences, including disaster drills.

Responds to all Code II situations.

Work Schedule: Monday - Friday 7:30am to 4:00pm
Similar Jobs
Below are the filters associated with this job. You may click on a filter to find more jobs like that or
click here
to start a new search for similar jobs. You may also use the
Advanced Search
to start your search with this jobs criteria.