Urgent Care Multi Specialty Group job located in California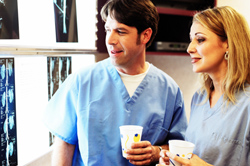 Job Description
The Orange County (OC) area is one of the most sought-after communities on the west coast. It is the 3rd most populous county in California that includes the top 25 K-12 schools. Located along the Pacific Ocean, the weather enables year-round outdoor recreation, and there's easy access to great cuisine, the arts, professional sports, and culturally diverse events. It's close to big cities to its north and south, but without the traffic and other issues that big cities present. The area has a great variety of housing options: near the ocean, in open space amongst foothills, and in urban settings.
(Login for Information) provides care to over 8,000 Hoag Hospital employees and their family members. We are proud to represent a patient-centered culture built on trust, communication, transparency and respect. HMG has an environment of collaboration with a focus on producing the best outcomes for our patients and delivering the highest quality health care services to the communities we serve. HMG Physicians commit to much more than helping patients stay healthy and enjoying a fun lifestyle. Our talented team of Physicians spend a great deal of their time engaging with our patient population through exciting community outreach programs, corporate sponsored events, donor relations and philanthropic endeavors that fund research and expansion projects.
Qualifications
M.D. or D.O. Degree
Board Certified or Board Eligible in Family Medicine or Emergency Medicine
Flexibility in shifts to develop patient panel
Work Location in Huntington Beach, Irvine or Newport Beach
Energetic, self-starter who can work independently and contribute to team environment if patient volume is slow
Occasionally cover weekends & extended patient care hours as needed
Feel comfortable in a range of settings: small group office and large group organizational setting
EMR proficient (we use Allscripts TouchWorks)
Multilingual skills, preferred
Participate in community service and philanthropic activities
Compensation & Benefits:
Competitive Compensation Package
Quality & Performance Bonus
Patient Satisfaction Bonus
On-Site Child Care (available Newport Beach only)
Malpractice Coverage
HMG Covers DEA, Medical Staff, CME and Board Certification Fees
Relocation Package (outside local area only)
Medical Benefits (HMG pays 100% Coverage for Physicians & Dependents)
401K Retirement Plan
Similar Jobs
Below are the filters associated with this job. You may click on a filter to find more jobs like that or
click here
to start a new search for similar jobs. You may also use the
Advanced Search
to start your search with this jobs criteria.